When I was in Harvard Business School, I learnt a lot regarding how to operate profitable businesses by not only making just a business grow and expand in different markets but also to make an impact to your clients and customers. Being in the US as a Harvard student for a couple of weeks was a major shift in my perception about what growth is, and how we Africans are not taking advantage of what we have.
Hence fast forward, I would like to share with the startup community on why culture should be the most important part for the growth of your business and why it's important to let everyone involve in the process.
Conduct a proper SWOT analysis within your Industry
I am not a huge fan of questions like "who are your competitors" as I believe everyone has a purpose. If you know where you're going and take an important challenge to venture in new opportunities, you will find yourself focusing more on delivering solutions to your customers and less looking at what others are doing. For us, we have different competitors in different category as our company structured to implement solutions for tech, advertising, products and venture in helping startups and collaborate with other corporate, hence SWOT is important as it will make you see all sort of weakness and threats and use your strength as a checklist to combat them and grow faster
Use your SWOT results to review your company vision
After sitting with your team and review all the SWOT results, it's very important now to strategically review your vision, mission, and purpose that will inspire everyone to deliver and know why they should work up in the morning and execute their task. This was one of the great exercises we did at Smart Codes and we involved everyone from our top managers to the supporting teams even drivers to the security team, and collectively we awesomely re-define our purpose. The major key question to everyone was on defining our WHY which was the light to our PURPOSE. As a result, we find our main purpose was to make a mark in their project we touch and help our client grow.
Train your dragons
During the SWOT process, you must measure the culture from strength to weakness and immediately invest more on your weak holes so as to train the team to be better than themselves. There is no better investment than training and empowering your existing team vs trying to hire the new one which they don't really understand your purpose at one place unless your growth needs new wings and hence add one to grow faster.
Even at Smart Codes, after strategically knowing our focus was to expand in other African markets, we immediately started collaborating with top talented experts in different African markets. We inspired our team that, with this digital age of transformation, you can do anything it's just you need to plan and have the courage to execute it. I remember we once invited Mussa Ally - Chief Information Officer (CIO) at Stanbic Bank Tanzania, to come and we did an amazing workshop with our team on how they can grow their career. This was not just for Smart Codes but most importantly was for their own career growth. This was done to train them to think BIG by Eating an elephant in bit by bit instead of thinking or eating chips-mayai which no-one will get a wow factor from you as a person.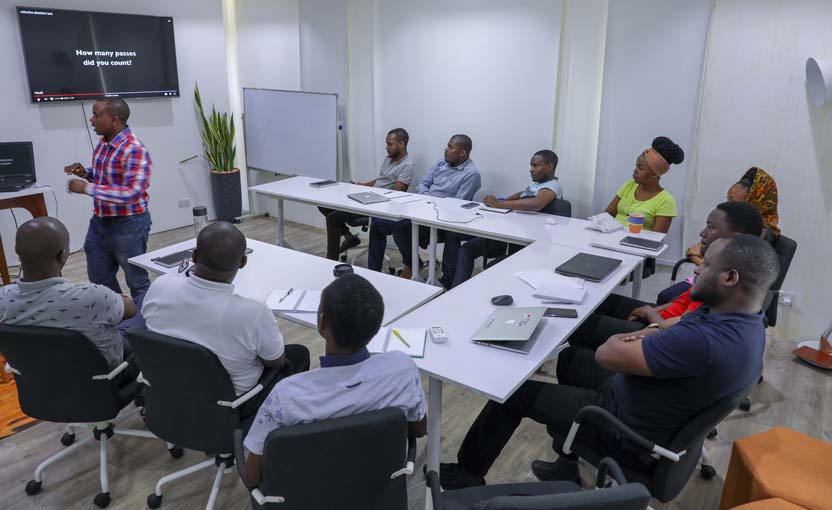 We have also worked closely with great minds like Max Ngari – one of the youngest creative directors in the region, my work has been awarded over 150 times at regional and international award shows. Festivals such as Cannes Lions, One Show, Clio Awards, the Dubai Lynx, African Cristal, APA/Loeries Awards, MSK Awards & The Loeries in South Africa.
Break your Vision into objective goals
The major learning here is knowing how to eat an Elephant. You need to break down this elephant goal into small tasks and assign each team member to deal with a few tasks. For example, at Smart Codes we don't have KPIs but we have objective goals plan at which each team members knows what part are they executing, hence it has helped to have smooth execution and objectives which define timelines. That has been a success for us, as it works better than, just calling them KPIs.
Show your client and partners your vision and purpose
Showing it's not an easy task, but I remember one of my Professors who was teaching us about the implementation of "Diffusion of innovations". This shows the baby steps of implementing anything new, you would 1st need to know your "Innovators" – People who will be willing to listen and then "Early Adopters" – which are more of opinion leaders, which are those around your Industry ecosystem. Surprisingly when we implemented our new VISION at Smart Codes, everyone got it and mostly we have seen people starting to add our key purpose "Making a Mark" in their hashtags, and "UNTIL ITS DONE" which is our infinity journey
Share your small wins with everyone
The major thing most people have is selfishness, most of the people are fearing to share their ideas and success because of competitors will know their moves, rather than looking at the mirror of sharing skills and opinions to help other grow the same way they did. Sharing most of the things we do at Smart Codes have been a major key growth from our team, as we know, only by sharing and open doors for outsiders to comment it's a two way learning, and it has been an incredible growth within our team and we have even seen it via our Innovation wing at SmartLab.
I remember one of or my classmate was inspiringly using a phone brand called "ONE-PLUS" and when we asked, She says that brand helped to push her dreams because all the time she switches the phone-on its pop a message says "NEVER SETTLE" then I get that this A1 culture has been a major shift of growth at OnePlus' fanbase. Let's share our success and failures so others can learn and also collect opinions from outsiders that will only impact our growth.
I never thought culture was a very big thing, but as Strive Masiyiwa says "believe you me" until you practice it, its when you will see the results. And it's important to impact your life by adding more books in your reading list and try to implement those learnings in your real life to measure growth results. Lastly, reading is the only way you can get a chance to learn new skills, as we all know "you can only give the output of what you know" and knowledge is collectively inputs and output of your interest.
SHARE |